OBJECTIVE OF THE PROGRAM
The orientation of human consciousness should have some absolute values. This then serves the proper foundation on which the technological milieu of the 21st century can rest. This harmony between technology of this era and suitable maturity for its deployment represents true growth of our planet. We may render specific objectives of the program as
Understand the very foundation of Science and Spirituality.
To find out the basis and requirement of new scientific culture suitable for this era.
To explore the possibility of new avenues for growth based on proper blend of Science and Spirituality.
Through these discussions bring forth the awareness of the nuances, shades and working of the human consciousness.
KEY TOPICS:
Science and Spirituality: Two sides of a coin
Consciousness Studies:Exploration towards real self
Mechanics of Pivotal Mind
Beyond life and Death: A Mystical Journey
A key for Total fulfilment
CHIEF PATRON:
Dr. J S Yadav
Provost, Indrashil University
PATRON:
Dr. Richa Dayaramani
Pro-Vice Chancellor, IU
ADVISORY:
Dr. Amish Vyas, Registrar, IU
Dr. Sidheshwar Routray, Dean, SoE
Dr. Rajesh Bhosle, Dean,SoS
Dr. Vijai Singh, Dean, Research
PROGRAM CONVENER:
Dr. Arun Kumar (+91 911 339 56 14)
CO CONVENER:
Dr. Kedar Pathak Dr. Ashish Kumar Shukla
RESOURCE PERSONS: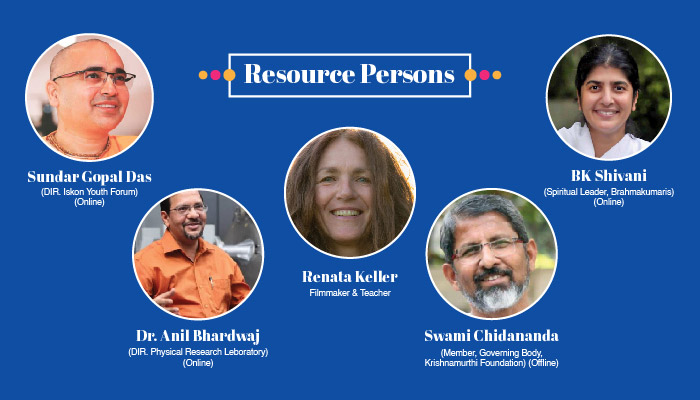 WHO WOULD GET THE BENEFIT?
HSC Students, Students of Universities and Colleges, Professors, Teachers and Working Employees, Scientists, Engineers, Technologists, Spiritualists involved and interested to discover reality.
REGISTRATION FEE STRUCTURE:
Registration fees: 799 Rs. (Offline) & 499 Rs. (Online)
Registration fees shall be paid through a demand draft drawn in Favour of "Indrashil University" Payable 'Mehsana' or in cash or online using Debit card/ Credit card/Net Banking. Online link for registration will be available on website of tank amity. Registration Kit, Refreshment and Food will he provided to all the participants. Registration charges are non-refundable.
---