ABOUT THE COURSE
B.Sc. IT is a 3 years (6 semesters) programme customized for aspirants aiming to make a bright and outstanding career in the field of Information Technology. The course has been specifically designed to suit the requirements of the IT industry, where individuals will be able to take up technical or management positions and design a career as Data Scientist, IT Consultant, Cloud Architect, Computer Forensic Investigator, Mobile Application Developer, Software Engineer, Network Administrator, Data Administrator, Business Analyst, Research Associates and many more.
The syllabus offers the Choice Based Credit System (CBCS) that has a blend of contemporary and foundation subjects like Artificial Intelligence, Python Programming, Machine Learning, Robotics, Data Science, Microprocessors & Assembly Language, Digital Logic & Circuits, Multimedia Systems, Digital Image Processing, Software Engineering, Web Designing, Java, Data Communications an many more. Final semester students offer either training in research institutes or in industry.
The academic and research focus areas in Bachelor of Science in Information Technology are:
Data Science and Analytics
APPLY FOR ADMISSION NOW
Program Structure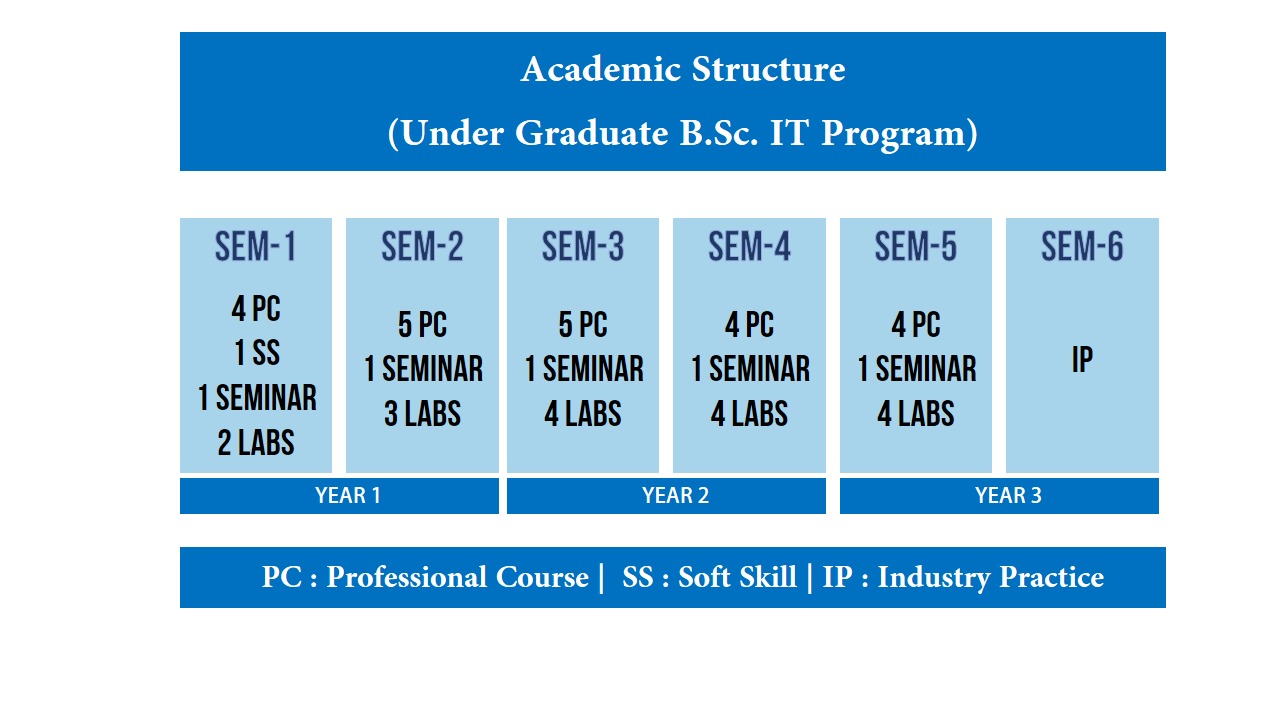 Objective of the B.Sc. IT
Provide students with a strong foundation in key concepts, tools, and technologies related to information technology.
Develop analytical thinking, problem-solving, and decision-making skills in the field of IT.
Foster an understanding of programming languages, software engineering principles, and database management.
Equip students with knowledge and skills in areas such as network administration, web development, and computer hardware.
Explore emerging trends and technologies in the IT industry and encourage adaptability to technological advancements.
Provide hands-on experience through projects and internships to apply theoretical knowledge to real-world scenarios.
Cultivate expertise in data analysis, cybersecurity, artificial intelligence, and project management.
Prepare graduates for diverse IT careers, including software development, systems analysis, network administration, and database management.
Enable graduates to work in various industries, such as technology companies, financial institutions, healthcare organizations, government agencies, and e-commerce firms.
Contribute to the design, development, implementation, and management of information systems in the digital age.
---
Career
A career in BSc IT (Information Technology) can be an exciting and rewarding choice for individuals passionate about technology and its applications in various fields. BSc IT offers a comprehensive understanding of computer science, information systems, programming, and data management, equipping graduates with the necessary skills to thrive in the ever-evolving IT industry.
One of the key advantages of pursuing a career in BSc IT is the wide range of job opportunities available. Graduates can find employment in diverse sectors such as software development, database administration, network management, cybersecurity, web development, and IT consulting. This versatility allows individuals to explore their interests and specialize in a particular area that aligns with their skills and aspirations.
Moreover, the demand for IT professionals continues to grow rapidly across industries. With the increasing reliance on technology, organizations require skilled IT experts to develop innovative solutions, manage complex systems, and safeguard digital assets. This high demand translates into excellent career prospects and attractive salary packages for BSc IT graduates.
Furthermore, the BSc IT curriculum emphasizes problem-solving, critical thinking, and analytical skills, which are highly valued in today's digital age. The program typically includes hands-on practical training, project work, and internships, providing students with real-world experience and industry exposure. This practical learning approach enhances their employability and prepares them to tackle the challenges of the IT industry effectively.
In conclusion, a career in BSc IT offers abundant opportunities, a promising job market, and the chance to contribute to the ever-growing world of technology. By pursuing this path, individuals can embark on a dynamic and fulfilling journey in the IT field, shaping the future through innovation and digital solutions.
INTAKE
For the academic year 2023-24, the department offers postgraduate level program.
Bachelor of Science in Information Technology: 30 seats