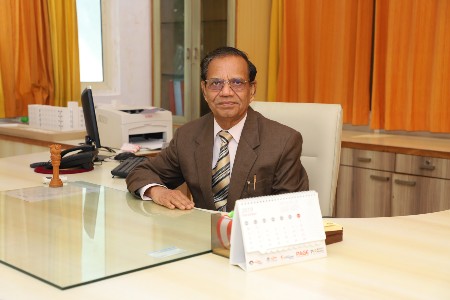 Prof. (Dr.) J. S. Yadav
Director (Research), Indrashil University
Prof. (Dr.) J. S. Yadav, Bhatnagar and JC Bose National Fellow, a visionary, led Council of Scientific and Industrial Research -Indian Institute of Chemical Technology, Hyderabad in the capacity of Director that scaled new heights under his able academic leadership. He is fondly remembered as an exemplary leader in the academic and research fraternity who proved to be an epitome of success through his diligence and perseverance. A Shanti Swarup Bhatnagar Laureate, Prof. (Dr.) Yadav is a towering scientist in Natural Products Chemistry who is acclaimed worldwide for his contributions and professional accomplishments. He has carved out his own niche in research with over 1300 publications of high impact journals, over 27000 citations and 150+ patents registered nationally and internationally. His remarkable achievements can be easily spotted from the awards and recognition received by- The University of France-D.Sc. (Docteur Honoris Causa), Khwarizmi International-Iran (IROST-UNESCO), Ranbaxy, VASVIK, CSIR Technology, Vigyan Gaurav Samman, Vigyan Ratna and the list is not exhaustive one as there are many more feathers added in his hat.
His status quo as FNA, FTWAS (Fellow, The World Academy of Sciences and All Indian Academy of Sciences) substantiates his passion and dedication in the field of chemistry. His illustrious career as an academic-leader, scientist and researcher is an inspiration to many.
All the programmes under School of Science are mentored and led by Prof. (Dr.) J. S. Yadav and school is progressing fast under his able guidance and leadership.