About The Department
Department of Chemistry offers Undergraduate, Graduate and Doctoral level Program in Chemistry. It offers 3 years B.Sc. (Hons.) program with focus on Research in Life Sciences and also offers M.Sc. in Chemistry.
Department offers Research opportunities in a wide range of interest from traditional physical, inorganic, organic, organometallic chemistry to new frontiers of chemical biology, material research and nano science. Department has highly qualified faculty which aims to cultivating both strong academic relations and successful connection between course and research programmes.
Academic and Research Focus Areas of School of Sciences
APPLY FOR ADMISSION NOW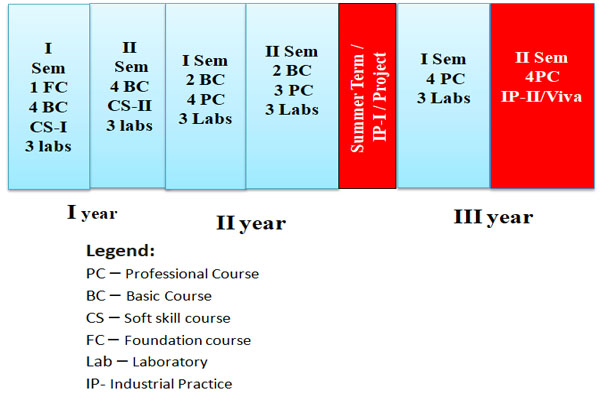 Salient feature of Undergraduate Programs:
8 months of internship for B.Sc., (Hons.) Programs.
Electives within and across discipline.
Flexible academic structure.
More hands-on experience.
Degree with specialization.
Soft skill training for better placement opportunities.
Student involvement in societal activities.
Degree with interdisciplinary minor.
Encouragement for research.
Student centric education.
---
Career
B.Sc. (Hons.) Chemistry
The employment areas for the B.Sc (Hons.) Chemistry graduates include pharmaceutical industries, chemical manufacturers, forensic science department, plastic industries, agrochemical industries, etc. Apart from these, they are also recruited in other fields such as oil, gas and power sectors and even in defence services.
The B.Sc chemistry graduates have many options for their higher studies like master's degree in the same. Some of the higher study options after B.Sc Chemistry Honors are: M.Sc. in Chemistry, Analytical Chemistry, Drug Chemistry, Organic Chemistry, Inorganic Chemistry, Pharmaceutical Chemistry, Physical & Materials Chemistry, Master of Business Administration (MBA) etc. Certification courses can also be one option for the B.Sc Chemistry graduates like Post-Graduate Diploma in Analytical Chemistry (PGDAC).
M.Sc. in Chemistry
There are many job opportunities available in the public and private sector for candidates who have completed their Master's in Chemistry.
Central Government Jobs after M.Sc. in Chemistry
There are many research institutes in our country that require professionals in the field of chemistry. The ISRO, DRDO, Bhabha Atomic research Centre (BARC), Advanced Centre for Treatment, Research and Education in Cancer etc. take students from M.Sc. Chemistry very frequently via national level entrances with lucrative salaries.
On top of this, the UPSC, CSIR – UGC, SSC etc. carries out entrance exams for the recruitment of qualified candidates into the various departments of the government as Scientists.
In addition to this candidate with M.Sc. Chemistry can also appear in the Civil Service exams and state PCS where a sound background in chemistry provides an edge.
It is also possible for them to join petroleum companies such as the Bharat Petroleum, Indian Oil Corporation, ONGC, and NTPC etc. which regularly conduct recruitment exams for officers. Sound knowledge of chemistry is necessary.
Jobs in private sector after M.Sc. in Chemistry
A candidate with a Master's degree in Chemistry can get jobs with chemical industries, pharmaceutical industries such as Ranbaxy, Cipla, Glaxo etc. as quality controllers etc.
Candidates with Master's degree are also employed in Food technology industry and Packaging industry.
Research Options
Candidates after M.Sc. are eligible for M. Tech from IITs in anyone of the fields
Nano Technology
Chemical Synthesis and Process Development
Biotechnology and Biochemical Engineering
Polymer Science & Technology and Textile Engineering
Modern method of Chemical Analysis
Material Science and Metallurgy
Fibre Science
Rubber Technology
Advanced Chemical Analysis
Material Sciences
Intakes
Department offers B.Sc.(Hons.) Chemistry, M.Sc. Chemistry and Ph.D. Chemistry with focus on Life Sciences.
B.Sc. (Hons.) Chemistry: 60
M.Sc. Chemistry: 60