About The Department
Department of Biosciences offers Undergraduate, Graduate and Doctoral level Program in Biosciences. It offers 3 years B.Sc. (Hons.) program with focus on Research in Life Sciences and also offers M.Sc. in Biosciences with specialization in Animal Biology, Biochemistry, Microbiology, Biotechnology and Computational Biology.
Department has highly qualified faculties with passion for Research and Science. It aims at nurturing young minds towards scientific challenges and integrates classroom learning with research and offers ample of opportunities for multidisciplinary interactions.
Academic and Research Focus Areas of School of Sciences
APPLY FOR ADMISSION NOW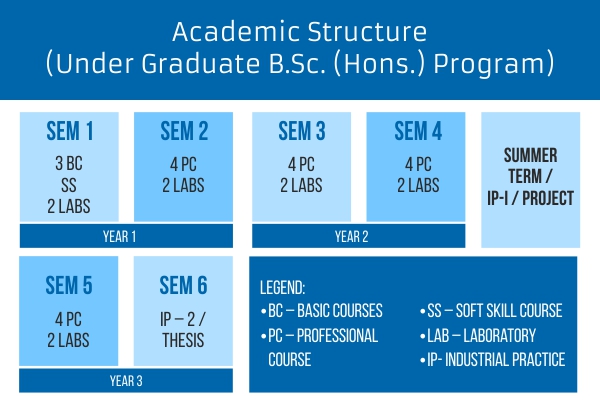 Salient feature of Undergraduate Programs:
8 months of internship for B.Sc., (Hons.) Programs.
Electives within and across discipline.
Flexible academic structure.
More hands-on experience.
Degree with specialization.
Soft skill training for better placement opportunities.
Student involvement in societal activities.
Degree with interdisciplinary minor.
Encouragement for research.
Student centric education.
---
Career
B.Sc. (Hons.) Biosciences
The career prospects for Bio technologists are quite high nowadays. Multiple career opportunities are available for professionals of biotechnology/biosciences. Some of the areas where they can get jobs include Agriculture Industries, Agro Based Industries, Aquaculture Industries, Chemical Industries, Colleges and Universities, Environmental Specialist, Food Processing Industries, Media Houses as Science Writer, Pharmaceutical Companies and Research Laboratories.
Depending on areas of interest and specialisations studied within the degree, career options could include scientific research and analysis, environmental and conservation management, ecologist, toxicologist, microbiologist, forensic scientist or scientific/medical laboratory officer.
Teaching and lecturing, information science, science writing, publishing, and making wildlife programmes or films are other possibilities after degree in Biosciences.
M.Sc. in Biosciences
The employment areas for the MSc Biosciences graduates include Healthcare and Medical Sector, Production Industry, Educational Institutes, as a Medical representative, Lab Technician, Environmental or Safety Specialist, Quality Control Officer and as Teacher and Professor.
"The pharmaceutical and agrochemical industries also offer careers for Bioscience postgraduates in a variety of roles, including research and development, medical sales and as clinical research associates conducting clinical trials. Working as a regulatory affairs officer or in patenting may also appeal."
Intakes
Department offers B.Sc.(Hons.) Bioscience, M.Sc. Bioscience and Ph.D. with focus on Life Sciences.
B.Sc. (Hons.) Bioscience : 75
M.Sc. in Microbiology : 18
M.Sc. in Animal Biology : 18
Ph.D. : Coming Soon