ABOUT PROGRAM:
1 Year Executive(Online) Program
Due to the rapid growth in hospital sector, there is great need for professional managers to improve efficiency and effectiveness of private as well as public sector hospitals. So there is a need felt for a program that is designed in a manner to impart sound knowledge of concepts and management fundamentals of hospital functioning under different modes. This curriculum will develop professionals who would demonstrate strong problem solving acumen and analytical skills alongside great people dealing skills. The students of this course will imbibe in them a sense of ownership towards the service to patients and the society at large.
PROGRAM IS AIMED AT:
To understand the managerial skills and its implementation in an organized way in hospital sector
To acquaint them with full functioning of the hospital sector
To familiarize with the National Health Programs and Insurance and its application in Hospitals
Efficiently implement process of accreditation in the health sector
To develop managerial abilities and analytical skills, and training to communicate with the community, interaction with government and statutory authorities
---
APPLY FOR ADMISSION NOW
WHY THIS PROGRAM
Indian Healthcare sector is growing at a cumulative average of 16.5% and will reach USD 280 billion; in near future, this sector will create 40 million new job opportunities. Again, it is estimated that hospital constitutes 70% of healthcare sector. The growth of private sector, changing lifestyle and current pandemic created immense job opportunities for professionally trained and skilled executives in the present time and this demand is likely to increase in future. It is an obvious fact that well managed hospitals can achieve superior output, patient satisfaction and effective clinical success all at one go. A satisfied patient will market the hospital through word of mouth and may become Brand Ambassador of the hospital that provided support and services to the concerned.
In India, there is dearth of skilled and efficient hospital administrator, yet a very few academic institutions offer hospital management program. The doctors in the hospitals strive hard to manage clinical and administration operation simultaneously as they lack managerial skills which in turn results into leadership crisis.
These days, hospitals are only administered but not managed as per the slated goal. An efficient hospital administrator can explore good career prospects and can become pivotal for the growth and success in this sector.
SALIENT FEATURES OF PROGRAM
Learning from experienced in-house, visiting faculties and leading experts from various hospitals
Design of course having inputs from experienced medical professionals
4-month Project in hospital, which will provide practical experience and up-gradation of their existing knowledge
Curriculum focused for freshers as well as working professionals
Part time online course with flexible timing
Inculcate knowledge of organizational abilities
Gives expertise in leadership and management skills
Increases logical and critical thinking abilities
Emphasis on development of written, verbal and non-verbal Communication skills
Transformative learning approach
---
PROGRAM STRUCTURE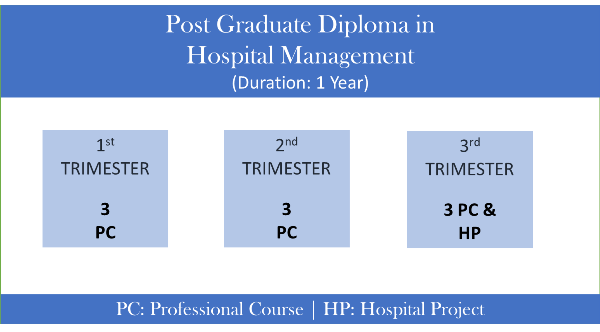 COURSES:
Evolution of Management Principles
Managerial Communication
Essentials of Health Economics, Accounting and Financing
Healthcare Management and Exposure to Community work
National Health Policies and Programs
National Health Insurance Models and Management
Hospital as Service industry
Hospital Organisation and Management
Quality Assurance, Quality Tools, and Accreditation Agencies
Project(Hospital)
---
CAREER
A growing demand for professional hospital administrators in India has opened up plethora of openings in various private and government run hospitals. The PGDHM program will develop students so as to suit to following positions, though are not limited as:
Medical Director
Hospital Business Manager
Hospital Administrator
Centre Manager
Deputy Superintendents
Operation Manager
Duty Managers
Guest Relation Manager
HR Manager
Patient Coordinator
Floor Manager
Patient Relation Executive
Front Office Administrator
Patient Coordinator
Front desk Executives
PROGRAM COVERS
Administrative Operations in Hospital Sector
Health Economic Aspects
Health Insurance Models and Management
Hospital as Service Industry
SKILLS AND OUTCOME:
Logical , reasoning and analytical skills required for critical thinking
Rational decision making
Handling day-to-day operations efficiently
To inculcate empathetic behaviour
To build cordial, sound and organizational culture
Improve the productivity and effectiveness in people centric sector
SECTORS IDENTIFICATION
Private and Public Health Centres, Hospitals run by Corporates and Trusts
To start own Consultancy / Advisory Services