About The Department
Department of Mechanical Engineering offers B. Tech. in Mechanical Engineering with micro-specialization in Automation and Robotics, Mechatronics, Advanced Manufacturing, Design Engineering and Thermal Energy System. During the course time, student will learn about materials, solid and fluid mechanics, thermodynamics, heat transfer, control, instrumentation, design, and manufacturing to understand mechanical systems.
Department has faculty highly committed to Research and from various domains of Mechanical Engineering like Welding Technology, Turbo Mechanics, Machine Design and Dynamics and Control Mechanics.
Academic and Research Focus Areas of School of Engineering
APPLY FOR ADMISSION NOW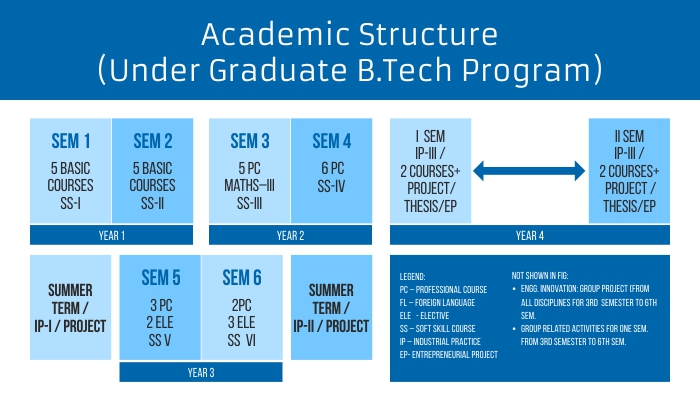 Salient feature of Undergraduate Programs:
10 months of internship for B.Tech.
Electives within and across discipline.
Flexible academic structure.
More hands-on experience.
Degree with specialization
Soft skill training for better placement opportunities.
Student involvement in societal activities.
Degree with interdisciplinary minor.
Encouragement for research.
Student centric education.
---
Career
Mechanical Engineering is one of the most versatile and dynamic fields of engineering. In pursuing this degree, student will study a wide variety of subjects and gain plenty of skills that open doors to a number of career options. It is versatile because a variety of subjects are included in the pursuit of a Mechanical Engineering degree. Mechanical Engineers are required in large variety of industries. Some of the most openings in Mechanical Engineering industries may be in automotive, HVAC, molds manufacturing, steel companies, foundries, workshops, pipe companies, aerospace, chemical, construction, electronics, or metal industries, and more. The field of Mechanical Engineering is considered to be an "Ever Green" field.
Intakes
For the academic year 2018-19, Department offers undergraduate level program and in future it will also offer Graduate and Doctoral level programs.
B.Tech. Mechanical Engineering: 60
Ph.D.: Coming Soon