ABOUT THE DEPARTMENT
Approved by PCI (Pharmacy Council of India)
The School of Pharmacy offers B. Pharm program approved by Pharmacy Council of India, New Delhi.The school is focussed to provide quality education with an approach of outcome-based learning. With inputs from eminent academicians and industry experts of healthcare domains the learners will engage in contemporary professional requirements and be future ready.
With academic deliberations by highly qualified, experienced, and dedicated faculty, the student will get a learning experience imbibing ethical as well as modern values to translate their knowledge and skills in their professional endeavours.
Well-equipped laboratories having sophisticated instruments and equipment will nurture the young minds towards creativity, innovation and scientific pursuits with integrated classroom pedagogy of group discussions, quiz, modern teaching aids and co-curricular activities.
The academic and research focus areas in B.Pharm. are:
Analytical Method Development
APPLY FOR ADMISSION NOW
Program Structure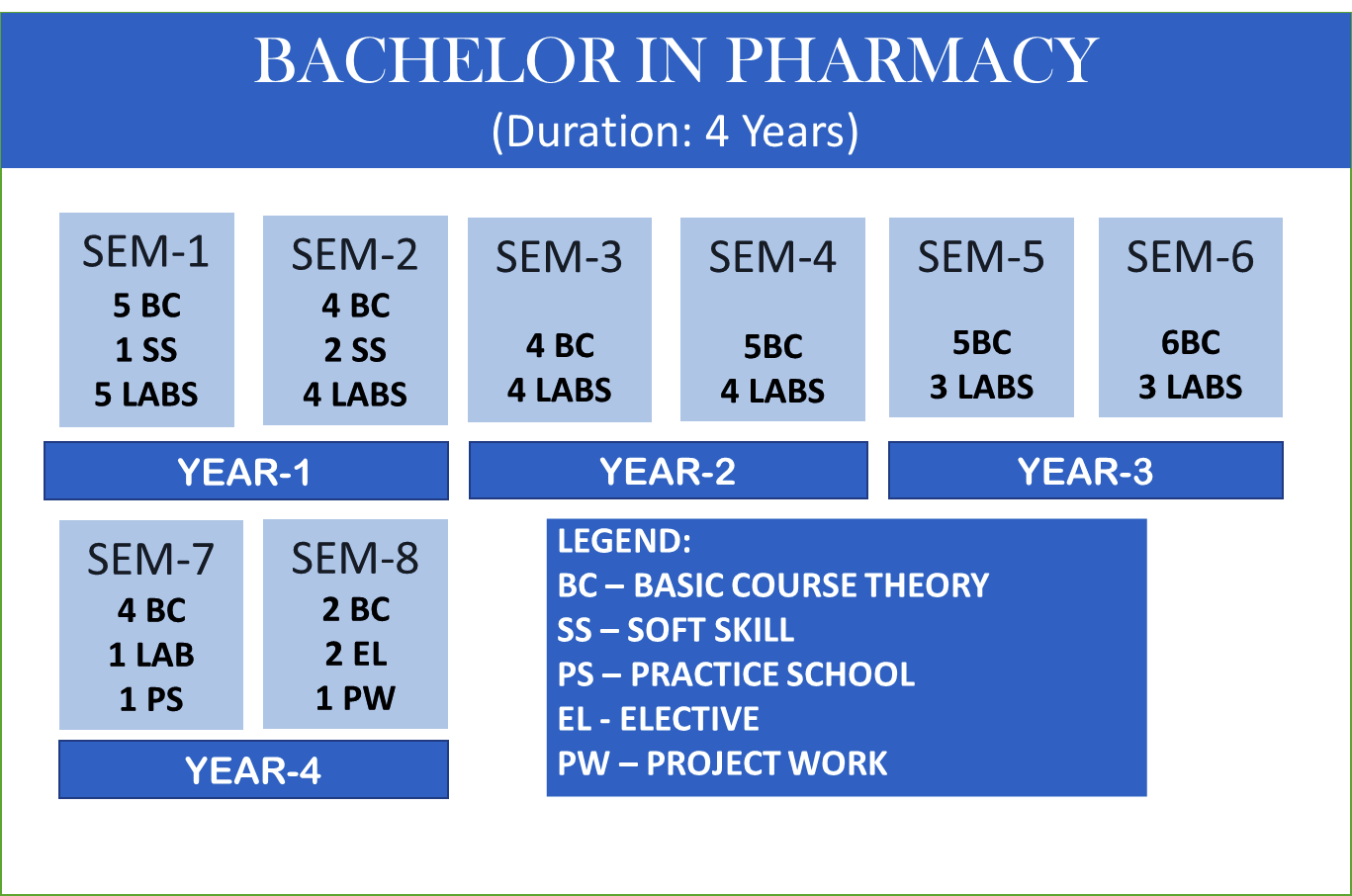 SALIENT FEATURES OF UNDERGRADUATE PROGRAMS
Emphasis on Research, Creativity and Entrepreneurship
Regular Industry, hospital and field visits
Interaction with scientists and eminent academicians for widening the learning horizon
Outcome based learning approach
Hands on laboratory experience
Soft Skills training for enhancing placement opportunities
Student involvement in societal activities
Enhanced learning with participation in scientific events
Collaboration with industries, CROs, Hospitals
Encouragement for research
Student centric education
Lush green campus with transportation, canteen and hostel facilities
---
Career
A growing demand for healthcare in India and abroad has opened upample opportunities in various arenas of healthcare and drug delivery system. With advancement in technology, supply chain and distribution along with the ethos of start-ups and entrepreneurship in various areas like Drug Development, Regulatory Affairs, Marketing and Advertising, Clinical research, Early detection of diseases amongst others.
The B Pharm program will develop students to suit to following positions, though are not limited as:
Hospital pharmacist
Community pharmacist
Medical Coder
Clinical Research Assistant
Production Chemist / Supervisor
Quality Control Chemist
Medical Sales Representative
Drug Inspector / Food Inspector
Medical Underwriters
Higher education like M.Pharm, MBA, LLB, Journalism, MMC etc
Self-employment/ Business prospects
INTAKE
For the academic year 2023-24
B. Pharm. : 100 seats [50 MQ seats]
SECTORS IDENTIFICATION
Pharmaceutical Industries
Research organisations
Private and Public Health Centres, Hospitals
To start own medical store or pharmaceutical industry or business