About The Department
Department of Chemical and Biochemical Engineering offer B.Tech. program in Chemical and Biochemical Engineering with Minor specialization in subjects like Biotechnology, Environmental Science and Engineering, Micro and Nanoscale Engineering, Energy, Pharmaceutical Engineering, and Environmental Enzymes.
Department consists of highly qualified faculty having experience in Research and in Industry. Their expertise covers various domains in Chemical Engineering, Environmental Engineering, Energy Engineering, Chemistry and Polymer Technology.
Academic and Research Focus Areas of School of Engineering
Environmental Science and Sustainability
Process Modeling and Optimization
APPLY FOR ADMISSION NOW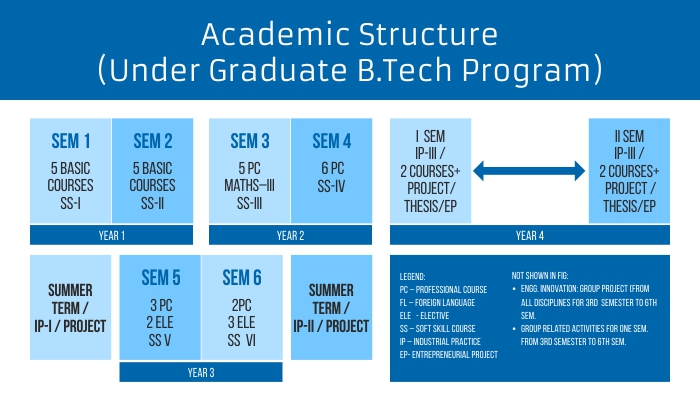 Salient feature of Undergraduate Programs:
10 months of internship for B.Tech.
Electives within and across discipline.
Flexible academic structure.
More hands-on experience.
Degree with specialization
Soft skill training for better placement opportunities.
Student involvement in societal activities.
Degree with interdisciplinary minor.
Encouragement for research.
Student centric education.
---
Career
B.Tech in Chemical and Biochemical Engineering will lead to a career in the petroleum refineries, fertilizer plants, food and agricultural products, in glass and plastic industry, various treatment plants, pharmaceutical firms and etc. Chemical and Biochemical Engineering is a stream of engineering which deals with applications of life science and physical science. In this stream, the student studies about the process of changing the raw materials into more valuable product. This branch of engineering is of great scope in many firms which utilizes chemical, biochemical, and biomedical technologies.
Chemical and Biochemical Engineers are generally involved in the design of various chemical plants and also in maintenance of those plants. There is lot of job opportunities for the aspirants after completing B.Tech in Chemical and Biochemical engineering.
Intakes
For the academic year 2018-19, Department offers undergraduate and doctoral level program and in future it will also offer graduate program.
B.Tech. Chemical and Biochemical Engineering: 60
Ph.D.: - 05