ABOUT PROGRAM:
1 Year Executive(Online) Program
The Postgraduate Diploma in Data Science is a One year (Bi-weekly), a skill-oriented, practical training program catering to the needs for building business models using analytics and improving the skill set of methodologies and tools utilized in a company's analytical and statistical operations. The PGD in Data Science is a postgraduate degree program that provides specialized training in statistical analysis and modeling techniques to extract insights from data. This program helps to enhance the critical thinking and problem-solving skills of the student in the context of Data Science.
OBJECTIVES:
To provide a comprehensive understanding of data science concepts, techniques, and methodologies.
To equip students with the necessary skills to collect,clean, analyze, interpret, and visualize large sets of data.
To develop proficiency in programming languages commonly used in data science, such as Python and R.
To provide hands-on experience with industry-standard tools and technologies used in data science projects.
To introduce machine learning algorithms and their applications in solving real-world problems.
To offer opportunities for practical projects or internships to gain real-world experience in applying data science techniques.
---
APPLY FOR ADMISSION NOW
Why to Choose this Program?
Data science is an interdisciplinary subject that employs scientific techniques, procedures, algorithms, and systems to extract information and insights from structured and unstructured data, and then applies that information and actionable insights across a wide range of application areas. Data science is connected to data mining, machine learning, and big data. It employs techniques and theories from a variety of disciplines, including mathematics, statistics, computer science, information science, and domain expertise. Data science, on the other hand, is distinct from computer science and information science. After completing this course, a candidate not only expands their working resume, but also opens doors to positions such as Data Scientist, Business Analyst, Data Analyst, Data Engineer, Data Architect, Data Mining Engineer, Research Analyst, Business Intelligence Analyst, Analytics Manager, and so on.
Salient features:
Deep Learning.
Facial Recognition.
Automate Simple and Repetitive Tasks.
Data Ingestion.
Chatbots.
Quantum Computing.
Cloud Computing.
---
Program Structure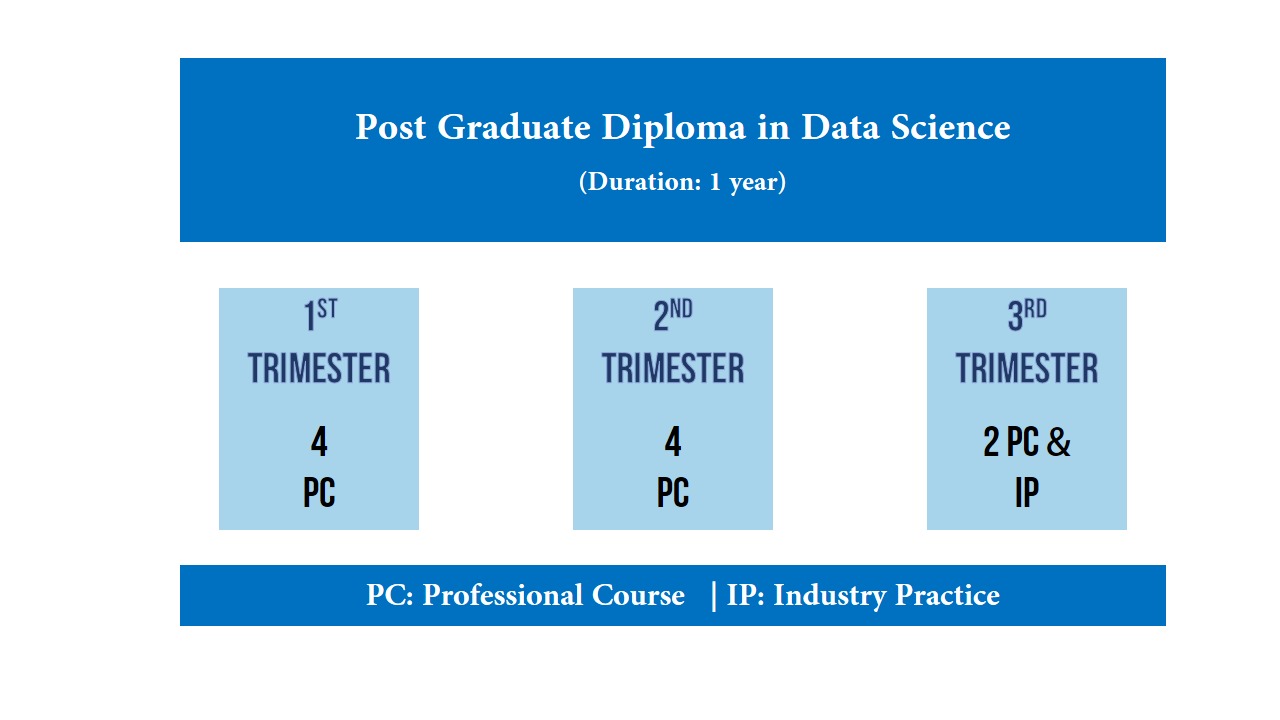 Program Outline:
Total Credits: 24
Trimester system
9 compulsory modules (16 credits)
Last Trimester Project (8 credits)
Eligibility Criteria:
Any graduate (Science/Medical/Paramedical/Business Administration/Commerce/Arts)
Minimum 50% marks obtained in the last university exam
---
Career
Machine Learning Engineering
Artificial Intelligence Engineer
Research Engineer Artificial Intelligence
Big Data and Artificial Intelligence Scientist
Data and AI Consultant
Machine learning Engineer
Robotics Engineer
Big Data and Artificial Intelligence Architect
Selection Criteria:
Selection of the student will be based on
Work experience
Performance in personal interview including group discussion
Batch size- 30 students per year