ABOUT THE DEPARTMENT
The department of Computer Sciences and Engineering offers B. Tech. program in Computer Sciences and Engineering with minor specialization in subjects like Wireless Networks, Mobile Computing, 5G and Internet of Things, Big Data Analytics, Security in Wireless Networks, Cyber Security and Computer Vision.
The department always sets a high growth path inviting inputs from industry experts and eminent academicians to make the courses contemporary. It has experienced and dedicated faculty, with a strong commitment to engineering education and who work with zeal and enthusiasm providing a vibrant and optimum learning environment for the students in order to help them excel in today's competitive environment.
It consists of highly qualified faculty having experience in research and industry. Their expertise covers various domains of Computer Engineering, Data Sciences, Computer Networks and Machine Learning.
The academic and research focus areas in Computer Science Engineering are:
Big Data and Data Science
APPLY FOR ADMISSION NOW
Program Structure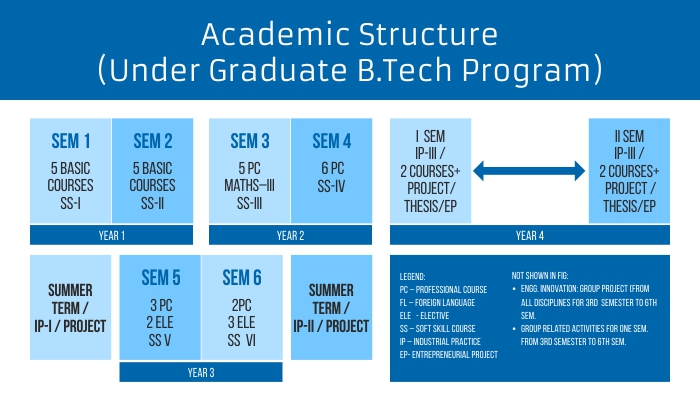 SALIENT FEATURES OF UNDERGRADUATE PROGRAMS
8 to 10 months of internship.
Electives within and across discipline
Flexible academic structure
Experiential learnin
Degree with specialization
Soft Skills training for enhancing placement opportunities
Student involvement in societal activitie
Degree with interdisciplinary minor
Encouragement for research
Student centric education
---
Career
Computer Sciences and Engineering is one of the most sought after genre of engineering. In this programme, the student will learn algorithms, programming languages, operating systems, database management systems, computer network, computer graphics and artificial intelligence. After the completion of this degree, student can work in the field of database management, embedded systems, IT, telecommunication, multimedia, computer hardware & software implementation, computer hardware & software maintenance, gaming, web designing and other related industries. It is a broad field and can provide scope to work in private and government sector as well. A degree in Computer sciences and Engineering will provide plethora of opportunities to the students.
INTAKE
For the academic year 2022-23, the department offers undergraduate level program and Doctoral level program.
B. Tech. Computer Science and Engineering : 90 seats