About PROGRAM:
Web designing is a dominant sector these days as it influences how your spectators perceive your brand. The fancy you make among them decide to remain at your page or website and know about your business. While other industries have seen a decline in growth, web designing industries have seen a growth of 27%. Being a web designer will offer you a sense of self – rule, and dignity by making companies achieve their online success goals or targets. You also have numerous opportunities to tap at your innovative side and paid well for it. Moreover, you are personnel having opportunity to work from anywhere with different industries and clients.
PROGRAM IS AIMED AT:
To induce lifelong learning knowledge skills, attitudes for IT development.
The diploma is designed in such a manner to offer sufficient knowledge and expertise to work on different software.
Becoming a web designer will offer you a good livelihood.
Presently, every person is glued with their mobile phones, so increased use of cell phones will increase the demand of professionally skilled web design to design web pages for companies' tariff.
A person with multiple languages education and digital tools shall have the best scope for development.
---
APPLY FOR ADMISSION NOW
Why this PROGRAM
The program aim is to deal with the practical application of Web Designing. Post Graduate Diploma in Web Designing program aim is to get concepts and modules relating to designing on web. The program offers a great amount of exposure in Courses such as Fundamental of Web Designing, Professional Website designing, Full Stack Development, Digital Media, Web Development and Animation Etc.
Salient Features of Course
Navigation
Visual Design
Content
Web Friendly
Interaction
Information Accessibility
Intuitiveness
Branding
---
Program Structure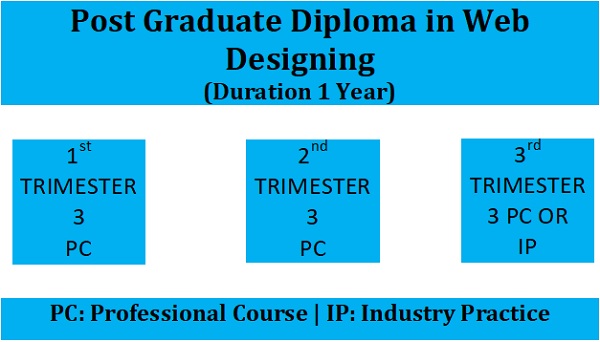 Program Outline:
Total Credits: 24
Trimester system
9 compulsory modules (16 credits)
Last semester Project (8 credits)
Eligibility Criteria:
Any graduate (Science/Medical/Paramedical/Business Administration/Commerce/Arts)
Minimum 50% marks obtained in the last university exam
Selection Criteria:
Selection of the student will be based on
Work experience
Performance in personal interview including group discussion
Batch size- 30 students per year
---
Career
Front-end designer/developer
Full-stack engineer
Back-end designer/developer
Software engineer
Senior web designer/developer
PROGRAM COVERS
Web Designing
Web Development
Web Animation