ABOUT PROGRAM:
1 Year Executive(Online) Program
This program is highly focused, application oriented and based on real-world scenario in AI & ML. PGDAIML is a One year (Bi-weekly), skill oriented, practical training program catering the needs for building business models using analytics. It is such designed that the participants are provided sufficient exposure to a variety of applications that can be developed for using techniques delivered during the program. This course is beneficial for the individuals working in industries/ IT backgrounds. However, prior knowledge of statistics or modelling is not essential.
AI has application in multidisciplinary fields that requires skills sets like statistics, mathematics, predictive modelling and business analytics. An AI professional should be comfortable to build the necessary algorithms, work with various data sources (often in assorted forms) and an essential ability to ask the correct questions and get the answer accordingly. This program will enable the learners for predictive analysis efficiently and with ease.
OBJECTIVES:
To prepare proficiency in AI & ML applied domains
To acquire cutting-edge skills in Data Analysis
To be well versed with contemporary Industry requirements
To provide AI/ML solutions for various business problems.
---
APPLY FOR ADMISSION NOW
Why to Choose this Program?
The program aim is to deal with the practical application of Machine Learning and Artificial Intelligence. Post Graduate Diploma in Machine Learning and Artificial Intelligence course aim is to get concepts and modules relating to Machine Learning and Artificial Intelligence. The course offers a great amount of exposure in subjects such as Fundamental of Artificial Intelligence, Advance Programming using R and Python, Mathematics and Statistics for Artificial Intelligence.
Salient features:
Deep Learning.
Facial Recognition.
Automate Simple and Repetitive Tasks.
Data Ingestion.
Chatbots.
Quantum Computing.
Cloud Computing.
---
Program Structure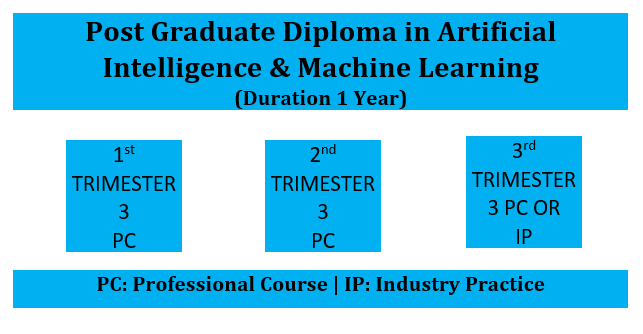 Total Credits: 24
Trimester system
9 compulsory modules (16 credits)
Last Trimester Project (8 credits)
---
Eligibility Criteria
Any graduate (Science/Medical/Paramedical/Business Administration/Commerce/Arts)
Minimum 50% marks obtained in the last university exam.
Selection Criteria
Selection of the student will be based on-
Work experience
Performance in personal interview including group discussion
Batch size- 30 students per year.
Career
Machine Learning Engineering
Artificial Intelligence Engineer
Research Engineer Artificial Intelligence
Big Data and Artificial Intelligence Scientist
Data and AI Consultant
Machine learning Engineer
Robotics Engineer
Big Data and Artificial Intelligence Architect