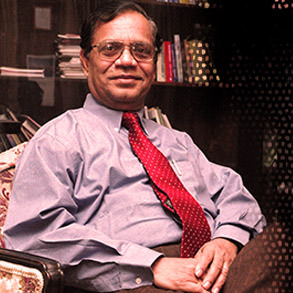 Dr. J.S. Yadav,
Director (Research), Indrashil University
Dr. Yadav has obtained his masters in 1972 and doctorate in 1976 from India. He was a Post Doc at Rice University, Houston and UW, Madison in USA for 3½ years. He returned to India and joined in CSIR service in 1981 at National Chemical Laboratory (NCL) Pune. Subsequently he moved to Indian Institute of Chemical Technology (IICT), Hyderabad in 1986. In 1989, he has been elevated as Head of the Department of Organic Chemistry Division (Natural products and synthetic organic chemistry), the largest research group at IICT.
Dr. Yadav while working at CSIR-IICT has excelled in the academics and his outstanding findings have been published in very reputed international journals. To the best of information, he is the only scientist in the entire CSIR and in all disciplines so far, who could publish over 1000 reputed research papers during his career and still going strong.
In fact, this academic zeal of him could attract so many young and enthusiastic and budding researchers to get themselves associated with Dr. Yadav for their PhD degrees and which has brought him an identification and recognition as the human resources person in the field of organic chemistry. And he is also been identified as the best productive chemist of India by an independent Scopus survey