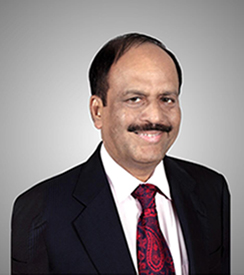 MR. MAHESHWAR S. SAHU
CHAIRMAN, BOARD OF MANAGEMENT, INDRASHIL UNIVERSITY
Indrashil University has been started with the vision to ensure that the graduate from the university reaches greater heights in his professional career. Our vision is not only to produce graduates, but also to produce good citizens for the country.
At Indrashil University we strongly believe that an educational institute is not built with bricks; but with brains. In the first year of inception itself, we are able to attract faculty from premiere institutions. They are well known teachers, researchers and scholars in their field. We have state of the art infrastructure for curricular, extra-curricular and co-curricular activities.
At Indrashil University, we have set for ourselves a high benchmark. We have best academic structure that encompasses credited courses on internship, thesis, term paper, project work, training on soft skill etc. in all the schools. Our academic system offers several flexibilities for students so that they can tailor their resume the way they want.
We are sure that our Indrashil University will be a "university with difference".
With this brief note I invite you to become a part of our vibrant culture.